Philadelphia Piazzolla Festival
Milongas, Concerts, Lectures, Master Classes & Workshops
PIAZZOLLA CENTENNIAL
Philadelphia Piazzolla Festival
Milongas, Concerts, Lectures, Master Classes & Workshops
Please join us July 11-20 for an epic celebration of the centennial of Astor Piazzolla. Originally conceived as a music festival, we have been able to add dance events as the pandemic situation has improved.
All of the festival milongas, concerts, masterclass, and workshops are IN-PERSON EVENTS. Only the lectures are offered through Zoom.
If you're planning to come to just one event, choose the concert and milonga in the 5,500 sq. ft. ballroom of the Lithuanian Music Hall on Sunday, July 18.
Meet the Artistshttps://www.youtube.com/embed/LmGLqCr9cyM?autoplay=0&mute=0&controls=1&origin=https%3A%2F%2Fwww.philadelphiatangoschool.com&playsinline=1&showinfo=0&rel=0&iv_load_policy=3&modestbranding=1&enablejsapi=1&widgetid=1
Why Piazzolla?
Above all other composers, Astor Piazzolla revolutionized tango music and brought it to the modern world stage. His inspiration and creativity in fusing tango music with elements from classical music, jazz and other genres, forged a new and unique style of music, Nuevo Tango.
Compositions like "The Four Seasons of Buenos Aires", "Adios Nonino", "Libertango", and "Oblivion" have brought the sounds and images of tango to people around the world. This explosion of popularity for tango music has made it easier to build tango dance communities worldwide.
Piazzolla was born in Mar del Plata, Argentina on March 11, 1921. His family moved to New York City in 1925 and he grew up between the U.S. and Argentina. His ability to cross musical boundaries is connected to his growing up between two cultures, a theme that will be explored in the lectures of the festival.
Earlier this year, the Philadelphia Argentine Tango School held a month-long virtual celebration of the Piazzolla Centennial. We are so grateful that the pandemic situation has improved and we can now offer this in-person celebration. Please join us!
Check out the video on the left to hear festival headliners Horacio Romo and Pablo Agri on the stage of the Teatro Colón in Buenos Aires in March of this year.read more…
Concerts & Milongas
The festival features two milongas and three concerts.
Sunday, July 11, 7 pm
Concert: An Intimate Evening with Horacio Romo & Pablo Agri
Horacio Romo, bandoneon & Pablo Agri, violin
Location: Greensgrow Farms, 2501 E Cumberland St, Philadelphia, PA 19125
Price: $40. REGISTER
Sunday, July 18, 7 pm-midnight
Concert & Milonga: Romo-Agri-Messiez Celebrate Piazzolla
Horacio Romo, bandoneon, Pablo Agri, violin & Emiliano Messiez, piano
7-8 pm: Concert (seated)
8 pm-midnight: Milonga with DJ Manuk Colakyan & live music
Those who wish to attend the milonga must prove full vaccination status in advance of the event.
Location: Lithuanian Music Hall (ballroom), 2715 E Allegheny Ave, Philadelphia, PA 19134
Price: $40. REGISTER
Tuesday, July 20, 6-9 pm
Concert + Milonga at Sunflower Philly
Horacio Romo, bandoneon, Pablo Agri, violin & Emiliano Messiez, piano
Location: Sunflower Philly, 1725 N 5th St, Philadelphia, PA 19122
Price: $40. REGISTER
Covid Policy
Indoor dancing requires proof of vaccination.
Masks optional for fully vaccinated.
Masterclass for Musicians
Tools & Secrets to Make Piazzolla Sound Like Piazzolla
Saturday, July 17
Morning session: 11 am – 1:30 pm
Afternoon session: 2:30 pm – 5 pm
How many times have you heard it said that tango musicians don't play what is written on the page?
So… what do they play?
In this one-day Masterclass, legendary tango musicians Horacio Romo, bandoneon, and Pablo Agri, violin, will share the tips, tools and secrets that allow you to unlock the sound, feel and emotional immediacy of tango, with a specific focus on Piazzolla's compositions.
Pianist / host Emiliano Messiez will translate, facilitate, and share some piano-specific secrets.
Specific topics to be covered include:
Styles of interpretation
Phrasing
Unusual instrument effects common in tango
Types of marcato
Other typical accompaniments, including 3-3-2, sincopa, and yumba.
The Masterclass is open to musicians of all styles and levels. You may choose to bring your instrument for specific feedback, or plan to participate by only watching and listening. A Yamaha C3 grand piano is available on site.
Covid Policy:
Proof in advance of full vaccination required, or mask.
Location: Philadelphia Argentine Tango School, 2030 Frankford Ave, Philadelphia, PA 19125
Price: $150. Need-based scholarships available. REGISTER
Lectures via Zoom
Four lectures will be offered via Zoom as part of the Philadelphia Piazzolla Music Festival. We are especially honored to have the participation of Maria Susana Azzi, a cultural anthropologist who wrote the definitive biography of Piazzolla, "Le Grand Tango."
Monday, July 12, 7:30-9 pm
"Piazzolla's Music And How It Relates To Traditional Tango," presented by pianist / composer Emiliano Messiez
Wednesday, July 14, 7:30-9 pm
"Astor Piazzolla and New York City," presented by cultural anthropologist / author Maria Susana Azzi. Maria has published a number of critically-acclaimed books about Piazzolla. You can find links to purchase here.
Friday, July 16, 8-9:30 pm
"Transnational Astor: The Making of Piazzolla from Argentina to the U.S. (and Back and Forth)," presented by historian Leandro Benmergui
Monday, July 19, 7:30-9 pm
"Astor Piazzolla and his relationship with Italy," presented by cultural anthropologist / author Maria Susana Azzi.
Price: $15 a la carte. REGISTER
Scroll down to learn about passes available. If you already have a "tango lecture series" class card, please email Meredith to use it for these lectures.
Tango Workshops: How to Dance Piazzolla
Sunday, July 18
Session 1: 12-1:15 pm
Session 2: 1:30-3 pm
For much of the world, Astor Piazzolla is the composer most associated with tango. However, for tango dancers, his music remains challenging, if not impossible, to dance to.
Join Andres Amarilla & Meredith Klein for two workshops, offered at an intermediate-advanced level, exploring:
How to listen to Piazzolla in a way that makes his music more danceable
How to adapt steps, concepts and dynamics from traditional tango to accommodate the greater diversity of rhythm, tempo and mood that we find in Piazzolla
You will leave these workshops with more confidence and tools to enjoy dancing Astor Piazzolla's music, a great posthumous gift to give the composer on the occasion of his centennial. 🙂
Partners-only. No partner change.
Proof of full vaccination required.
Cost: $50 (Registration covers both sessions). REGISTER
Location: Philadelphia Argentine Tango School, 2030 Frankford Ave, Philadelphia, PA 19215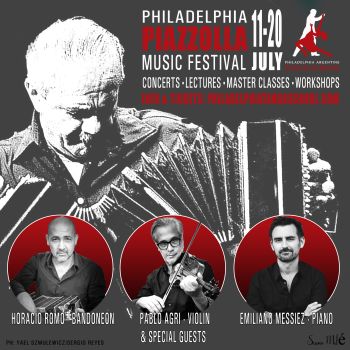 Pricing & Registration
Available Passes
Our current registration system does not "do" passes well. If you would like to buy a pass, please use this form to send the correct amount, along with a note to confirm what you are registering for.
Full Pass inc. dance workshops (all activities): $290
Full pass without dance workshops (all activities except dance workshops): $240
Master Class (both sessions): $150
Concerts, Milongas & Lectures (7 events total): $140
A La Carte
A la carte pricing is as follows.
Single concert (includes milonga, when on the same day): $40
Single zoom lecture: $15
Master class: $150
Two dance workshops (per person): $50
For a la carte purchases, please use our registration system. Click the "workshops" tab.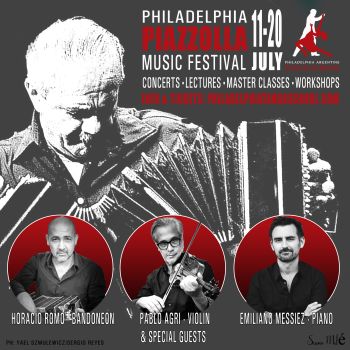 Meet the Artists
From one of the greatest living bandoneon players, Horacio Romo, to the author of the definitive Piazzolla biography, Maria Susana Azzi, we are overwhelmed at the calibre of artists participating in this festival.Get to know them here…
Complete Festival Schedule
The Philadelphia Piazzolla Music Festival's activities are organized thematically above, grouped by concerts, master class, workshops and lectures.
To view a complete list of activities, divided into two sections, in-person events and events on Zoom,click here…